INTRODUCING ODISHA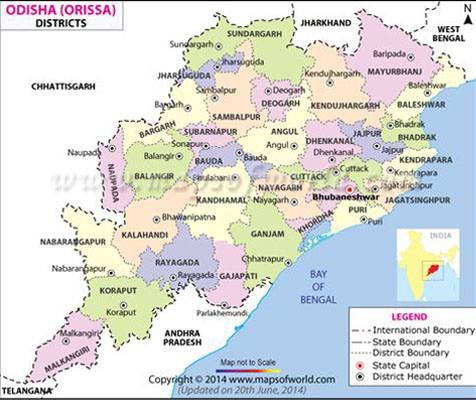 Odisha, one of the 29th states of India, located at the country's eastern coast was constituted on April 1, 1936 as the first Indian state (pre-independence) on linguistic basis constituting predominantly of Odia-speaking regions. It is the 9th largest state by area, and the 11th largest by population. It is also the 3rd most populous state of India in terms of tribal population with 62 culturally vibrant tribes including 13 primitive tribal groups.
In terms of history, Odisha is the heartland of ancient and powerful kingdoms as Kalinga, Utkal, Odra &Kosala.. It is here only Emperor Ashoka renounced violence, embraced Buddhism and became Dharmasoka from Chandasoka after the Kalinga war. Through vast maritime trade route of Kalinga, Emperor Ashoka propagated Buddhism and made it a world religion.
Odisha, known as the Soul of India, has always enthralled its lovers with its eternal mystical charm, a beautiful poetic cocktail of history, culture and nature, so serene, so pristine, yet scintillating and intoxicating. With the vanishing sea of Chandipur in the North, the architectural marvel of Ratnagiri, the mysticism of Lord Jagannath, the majestic Konark Sun Temple, the dazzling Chilika Lake and the freezing Daringbadi in the tribal hills of the South, Odisha has always been a connoisseur's delight.
Odisha is surrounded by West-Bengal on the north-east, Jharkhand on the north, Chhatishgarh on the west and Andhra Pradesh on the south-west while the Bay of Bengal washes its shores on the south east. The state of Odisha extends from 17.49N latitude to 22.34N latitude and from 81.27E longitude to 87.29E longitude. The state has an area of 155,707 km2 and extends for 1030 km from north to south and 500 km from east to west. Its coastline is 485 km long. The state is divided into 30 districts which are further subdivided into 314 blocks.
Owing to its peculiar geographical location and wide range of physical features, Odisha embraces a diversified floristic composition. The extensive ranges of hilly forests, several lofty peaks, long stretches of coastline, excellent riverine system and coastal plains altogether have endowed the state with a wide range of ecological habitats for a diverse and broad spectrum of vegetation. Chilika Lake being Asia's largest brackish water lagoon, covering an area of over 1,100 sq. km, has been the winter haven of migratory birds and is also the sanctuary for the endangered Irrawady Dolphins. The rare species of giant Olive Redley turtles swim for several thousand miles to their ecologically favoured nestling haven of Gahirmatha and Rushikulya in the Odishan coast. Bhitarkanika National Park,located in Kendrapara district of Odisha, is India's second largest mangrove ecosystem. Spread over 672 sq.km. Bhitarkanika is the largest shelter of the endangered saltwater crocodile in India and one of the important Ramsar Wetlands in India.
Through centuries Odisha has retained its cultural identity within the mainstream of pan-Indian culture. It has a distinct tradition of painting, architecture, sculptures, handicrafts, music and dance.
Architecture in Odisha has found its supreme expression in the form of temples, some of which are among the finest in the world. Of these three are most famous: theLingaraj Temple at Bhubaneswar (11th century), the Jagannath Temple at Puri (12th century) and the great Sun Temple at Konark (13th century). This style of architecture is called as the Kalinga style which consists of a structural duo, the main temple or shrine and the frontal porch. And also the recent discovery of the Buddhist establishments of Ratnagiri, Udayagiri and Lalitgiri by Archaeological Survey of India (ASI), abandoned around 1,000 years ago, is reframing the legacy and grandeur of Kalingan architecture.
Odisha was known as 'Utkal' for its excellence of arts and crafts. The stone and wood carving, silver filigree, applique works, traditional patta painting, palmleaf etching, brass work, dhokra work, tribal jewellery, terracotta, lacquer craft, golden grass craft, horn craft etc are popular crafts of Odisha and offer wide range of artistic as well as utility products.
Odisha has a glorious tradition of handloom weaving since 600 B.C. and today more than 400,000 handloom weavers are enriching this ancient heritage. Odisha is widely known for its Bandha design, which is a unique tie and dye technique (known by the Indonesian name ikat). Among the most notable Bandhas of Odisha are the Nuapatna tie-dye (also known as Khandua) and traditional Sambalpuri tie-dye. Nowadays, the Bandha forms range from simple fabrics with basic patterns to sophisticated cotton and silk sarees with intricate design in the weft or warp or both. An indigenous mingling of silk and cotton, the Bapta, is also very much prevalent and widely appreciated.
Today Odisha is one of the fastest growing States in India.
ODISHA FACT FILE
| | |
| --- | --- |
| Official Name | Odisha, one of the state of the Republic of India |
| Capital | Bhubaneswar |
| Location | Extends from 17.49N latitude to 22.34N latitude and from 81.27E longitude to 87.29E longitude. |
| Geographical Area | 1,55,707 sq.km |
| Coastline | 485 kms |
| Population | 41,947,358 (as per 2011 census) |
| Religions | Hindus (94.35%), Muslims(2.07%),Christians(2.44%), Buddhists(0.027%), Sikhs(0.047%),Jains(0.025%) and others (0.983%) |
| Language | Odia (84%) ; other spoken languages- Hindi, Urdu, Bengali and Telugu |
| Terrain Types | Fertile plains along the coast and forested highlands towards the interior. Highest mountain peak : Deomali (1672 m) |
| Climate/ Best time to travel | Tropical climate with major rainfall from south west monsoon; high temperature from March to May varying between 40-46 degree Celsius; high rainfall from June to September (average annual rainfall-1482mm);Best period to visit Odisha is from October to March. |
| Literacy Rate | 73.45% (as per 2011 census) |
| Airport | Biju Patnaik International Airport, Bhubaneswar |