Former Patron-in-Chief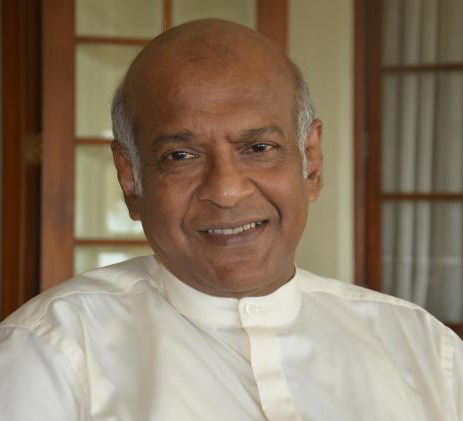 Professor Sudharshan Seneviratne, Ph.D,FSLCA.
Former High Commisioner of Sri Lanka in India
After completing his early education from the prestigious Ananda College Colombo, Professor Sudharshan Seneviratne has his entire university education (from 1970 to 1980) in India, at Delhi University (Hindu College) and Jawaharlal Nehru University, New Delhi. He is also the first Sri Lankan to complete Master's and Doctoral degrees from JNU. His doctoral thesis Social Base of Early Buddhism in Andhra, Tamil Nadu and Sri Lanka (3rd Cent. BC to 3rd Cent AC) was supported by the ICHR.
Having returned to Sri Lanka in 1980 he joined the Department of Archaeology, University of Peradeniya and later become Professor of Archaeology as well as Head of the Department. In 2007 he was appointed Director General of the Central Cultural Fund (CCF), the Custodian organization for UNESCO Declared World Heritage Sites and held this position until 2010. He was also the visiting distinguished Professor at Jawaharlal Nehru University, Madras University, Cornell University , and several prestigious Liberal Arts Colleges in the USA such as Bowdoin, Swarthmore, Carleton and Whitman Colleges. He has participated in many academic and heritage policy making bodies in the SAARC region and in the USA and is the Consultant Archaeologist to UNESCO, Government of South Korea, Republic of Maldives and the American Institute of Archaeology.
Over the past two decades Professor Seneviratne received several Distinguished International Awards for his Outstanding Contributions to Archaeology & History. The most recent being recipient for Best Practice in Conservation & Heritage Management for 2013 awarded for the first time to an Asian by the American Institute of Archaeology, USA.
For over thirty years Professor Seneviratne has actively promoted heritage for conflict resolution & peace, sustainable development, and preservation of traditional knowledge and the empowerment of social and economically disabled groups. He believes in inclusiveness and shared heritage as a source of people to people connectivity. He is a strong promoter of environmental protection, social activism and humanistic engagements.
H.E. Professor Sudharshan Seneviratne is the Ex-Officio Patron-in-Chief of Kalinga Lanka Foundation.